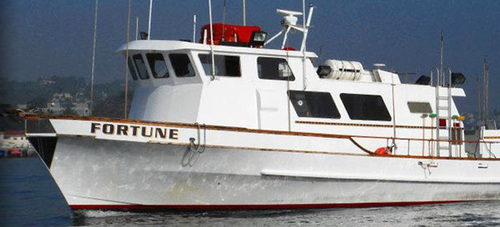 Fortune
Owner:
Bruce Smith
Captains:
Bruce Smith
Mailing Address:

Fortune Sportfishing
141 West 22nd Street
San Pedro, CA 90731
Boat Website:
www.fortunesportfishing.com
Fortune is a 65 solid fiberglass vessel that sleeps 22 passengers comfortably. She was built in Westport, Washington in the Kelly boatyard in 1979. The Fortune is powered by a pair of brand new Cummins QMS 11 power plants, alongside a John Deere 35KW generator. The refrigeration is in very good shape, and will be keep your fillets or whole fish in the pristine RSW state that we have all come to insist upon. At deck level the bait tank holds 120 scoops of sardines, anchovies, or squid, along with a below deck slammer that can accommodate an additional 50 scoops of bait. Downstairs in the bunk room, all bunks are outfitted with privacy curtains and individual boot racks. For those who need a little bit more privacy, we have two staterooms all the way forward, each for two people. Of course the entire downstairs area is air conditioned. We have two heads, both on the deck level. They are inboard facing at the aft end of the salon, and one of them has a shower. Fortune carries 400 gallons of freshwater, but also is equipped with a RO freshwater maker to ensure we dont run out on our extended excursions. The salon has just been reupholstered, and is equipped with a large flat screen TV and DVD player. For all intents and purposes, Fortunes galley is brand new. It features new refrigerator(s), a stand-up freezer, a flat grill, two burners, and a beer cooler, all to bring you the finest charter boat cuisine in the fleet.



The wheelhouse is equipped with a new Furuno 48 mile radar, a Furuno GPS plotter, a new Furuno 6000 color video sounder, and a Wesmar side scanning sonar. I was considering getting a new sonar and I brought the idea up in a conversation with Mike Lackey who owns the Vagabond. Mike hemmed and hawed about the idea, and then stated that the sonar on the Fortune has caught a lot of fish over the years, it has found many, many schools of bluefin, albacore, and yellowfin. That did it for me. We are sticking with what works, and this sonar does. Believe me, with these new improvements, this is a top of the line electronics package. Radios include a Single Side Band, three two-meter side band, two VHF, and a KVA dispatch with satellite phone. My philosophy is that service will keep you coming back, but catching fish is why you are here in the first place! With these high-end tools of the trade, we stack the odds more in our favor to find that biting school.

Charter trips 1.5 day and longer require all inclusive meal plan. All inclusive trips will be run Long Range style, with three meals a day plus morning snacks and afternoon hors d'oeuvres, salad, bread and dessert This plan makes for the most enjoyable experience for all passengers. ​Contact the Boat Manager for rates of this package.

To make your reservation please click on the green button next to the trip you would like to go on. Then follow the instructions to complete your reservation.
No trips found.
Charter Rates
Trip Types
Season
Anglers
Price
O/N SBI/SCI/CAT
JUNE- OCTOBER
22
$3,800
1.5 Day Freelance (This price does not include meals)
JUNE- OCTOBER
22
$4,800
2-Day San Nic (This price does not include meals)
JUNE- OCTOBER
22
$6,300
Prices subject to change without notice. Call the landing for exact pricing.
Recent Fortune Fish Counts
Date

Trip Type

Trip Details

Fish Count

Audio

07-18-2021

1.5 Day Trip

22 Anglers

2 California Halibut, 10 California Yellowtail, 220 Rockfish

07-15-2021

2 Day Trip

12 Anglers

2 California Halibut, 71 California Sheephead, 7 California Yellowtail, 68 Kelp Bass, 48 Ocean Whitefish, 60 Rockfish

07-12-2021

2 Day Trip

22 Anglers

1 California Halibut, 6 California Sheephead, 23 California Yellowtail, 21 Kelp Bass, 2 Lingcod, 86 Ocean Whitefish, 110 Rockfish, 110 Vermilion Rockfish, 71 White Seabass

07-10-2021

Overnight Trip

14 Anglers

18 California Barracuda, 1 California Halibut, 6 California Sheephead, 13 California Yellowtail, 12 Kelp Bass, 41 Ocean Whitefish, 6 Pacific Bonito, 62 Rockfish, 13 Vermilion Rockfish, 5 White Seabass, 3 Giant Seabass Released

07-09-2021

Overnight Trip

18 Anglers

10 California Sheephead, 5 California Yellowtail, 41 Kelp Bass, 13 Pacific Bonito

07-03-2021

3/4 Day Trip

20 Anglers

31 Barred Sand Bass, 192 California Barracuda, 120 California Scorpionfish, 12 Kelp Bass

07-03-2021

1.5 Day Trip

18 Anglers

28 California Sheephead, 2 California Yellowtail, 46 Kelp Bass, 7 White Seabass

06-29-2021

1.5 Day Trip

16 Anglers

28 California Sheephead, 10 California Yellowtail, 62 Kelp Bass, 42 Ocean Whitefish, 3 White Seabass

06-27-2021

2 Day Trip

18 Anglers

2 California Halibut, 3 California Yellowtail, 20 Kelp Bass, 3 Lingcod, 50 Rockfish, 12 White Seabass

06-24-2021

2 Day Trip

14 Anglers

51 California Sheephead, 18 California Yellowtail, 45 Kelp Bass, 110 Ocean Whitefish, 3 Pacific Bonito, 79 Rockfish