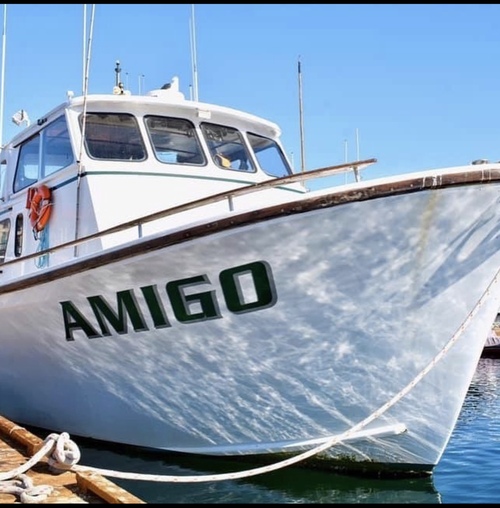 Amigo
Owner:
Jeff Jessop, Mark Pisano
Captains:
Jeff Jessop, Mark Pisano
Mailing Address:

Amigo Sportfishing
141 West 22nd Street
San Pedro, CA 90731
Boat Website:
https://www.amigosportfishing.com/
The Amigo is a 60 foot sportfishing vessel available for booking at the 22nd Street Landing Sportfishing in San Pedro, CA. The Amigo is captained by Jeff Jessop and Mark Pisano, and was purpose built for sportfishing in Washington state using a fiberglass hull. The Amigo is licensed for 51 people, but we generally try to limit the load to make sure everyone is comfortable and has plenty of space to operate while fishing. For overnight trips we limit the boat's capacity to only 18 people. The Amigo contains all of the features you need to be comfortable, including bunks, an open galley, nice food and an accommodating crew.


To make your reservation please click on the green button next to the trip you would like to go on. Then follow the instructions to complete your reservation.
No trips found.
Recent Alexes Fish Counts
Date

Trip Type

Trip Details

Fish Count

Audio

08-22-2019

Overnight Trip

6 Anglers

30 Yellowfin Tuna

09-09-2018
09-04-2018

Overnight Trip

4 Anglers

1 Bluefin Tuna, 2 California Sheephead, 4 California Yellowtail, 4 Dolphinfish, 3 Kelp Bass

08-21-2018

Overnight Trip

6 Anglers

28 Dolphinfish

07-19-2018

3/4 Day Trip

8 Anglers

37 Halfmoon, 40 Kelp Bass, 3 Ocean Whitefish, 4 Opaleye

06-30-2018

Overnight Trip

5 Anglers

7 California Barracuda, 3 California Sheephead, 3 California Yellowtail, 25 Kelp Bass, 10 Ocean Whitefish

06-27-2001

Full Day Trip

3 Anglers

7 White Seabass

06-24-2001

Full Day Trip

5 Anglers

50 Kelp Bass, 1 White Seabass

06-02-2001

Overnight Trip

6 Anglers

2 California Barracuda, 2 California Halibut, 60 Kelp Bass, 2 White Seabass

06-01-2001

Full Day Trip

7 Anglers

1 California Barracuda, 28 Kelp Bass, 7 White Seabass, 2 Giant Seabass Released