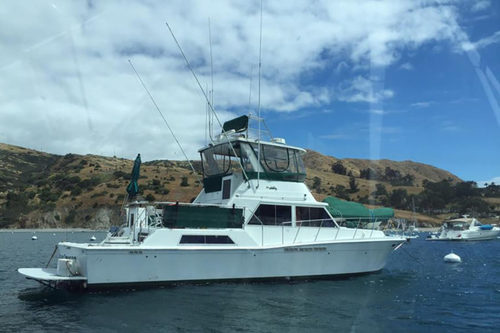 Kamryn Dawson
Owner:
T.J. Holston
Captains:
T.J. Holston
Mailing Address:

Kamryn Dawson Sportfishing
141 West 22nd Street
San Pedro, CA 90731
Boat Website:
http://kamryndawsoncharters.com/
The 48-foot Kamryn Dawson offers private charters only, for one person to six people. The boat is well equipped and comfortable for both day trips and overnight charters. There is a complete galley for food preparation, and plenty of indoor and outdoor space.
We offer completely customizable charters, based on your needs. If any of the following categories aren't quite what you're looking for, just give us a call to see if we can accommodate you.

Six-Pack Sportfishing (starting at $1400)
What could be better than a day fishing with your friends or family? On our six-pack sport fishing charter, you and five friends or family members can enjoy the day, catch some fish, and have a great experience out on the water. And while we can't actually guarantee the whole "catch some fish" thing, we can assure you you'll have a good time trying.

Whale Watching and Harbor Tours (starting at $700)
Our whale-watching charter provides an excellent opportunity to see gray whales, dolphins, and killer whales, humpback whales, and/or blue whales, depending on the season. April through December is the best time to see humpback whales, blue whales, killer whales, and dolphins. Sea lions and other harbor marine life also get into the act. There's lots to see around Los Angeles and Long Beach Harbor, too–Angel's Gate Light House, the U.S.S. Iowa, U.S. Coast Guard ships, the huge dry docks and container terminals, and more.

Lobstering (overnight charter) (starting at $2200)
The California spiny lobster is a delicious meal. During the season, you can catch your dinner with no problems. If you don't want to dive for your dinner, no problem. Hoop nets let you fish from the boat.

Burials at Sea (starting at $600)
The sea holds a special place in our souls; for those drawn to the water, scattering a loved one's ashes at sea is especially fitting. We will work with you to create a service you and your loved ones will remember forever.

Scuba Diving and Snorkeling (starting at $1600)
All of our diving charters are include a certified dive master to make sure you are as safe as possible while getting to see the abundant undersea life, both flora and fauna.

Private Boating Instruction ($300 for a four-hour class)
We offer private lessons on your own boat in systems operations and vessel checks, various docking techniques, close-quarters maneuvering, and more. The exact curriculum is up to you.