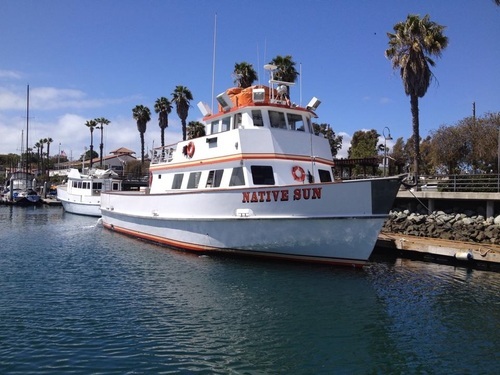 Native Sun
Owner:
Native Sun Sportfishing
Captains:
Aaron Graham
Mailing Address:

Native Sun Sportfishing
141 West 22nd Street
San Pedro, CA 90731
Ahoy! The "Native Sun" is a spacious 75' x 24' sport fishing vessel operating out of 22nd Street Landing in San Pedro, California. The boat is currently running 3/4 day fishing trips departing at 7am. This type of trip allows us to go wherever the fish are biting whether that be along the coast or around the beautiful Catalina Island and beyond. The "Native Sun" boasts a large galley with flat screen Tv's and surround sound as well as a large upper sun deck to relax on while traveling to and from fishing destinations. The boat is also equipped with modern electronics in the wheelhouse including a side scan sonar to maximize fish finding capabilities and a knowledgable friendly crew working to make your experience aboard a memorable one. For reservations and booking info as well as charter inquiries please visit www.22ndstreet.com or call the office directly at (310) 832-8304 Let's go fishing
To make your reservation please click on the green button next to the trip you would like to go on. Then follow the instructions to complete your reservation.

July, 2024

Native Sun

3/4 Day

Charter

7-13-2024

7:00 AM

7-13-2024

5:00 PM

August, 2024

Native Sun

3/4 Day Limited Load

Charter

8-17-2024

7:00 AM

8-17-2024

5:00 PM
ASK ABOUT OUR OFF SEASON PRICES!!
All charters require a 50% deposit 30 days prior to departure date.

Bait is included on all trips.

Ice chests, glass containers, and alcoholic beverages are not to be brought aboard the boats.

All prices are subject to change without notice.

Licenses, Fishing Tackle, Food and Beverages, and Fish Filleting are additional on all trips unless otherwise noted.

California fishing licenses are required for all anglers 16 years of age and older when fishing California waters.

Possible fuel price increases may require that a fuel surcharge be added at the time of departure.

All prices based upon a cash payment basis. Credit payments will increase the cost by 3%.
Recent Native Sun Fish Counts
Date

Trip Type

Trip Details

Fish Count

Audio

10-28-2023

3/4 Day Trip

12 Anglers

3 Salmon Grouper, 8 Sheephead, 120 Whitefish, 47 Rockfish, 4 Red Snapper

10-21-2023

3/4 Day Trip

28 Anglers

61 Salmon Grouper, 6 Sheephead, 280 Whitefish, 27 Rockfish, 37 Red Snapper

10-08-2023

3/4 Day Trip

13 Anglers

57 Salmon Grouper, 3 Sculpin, 4 Sheephead, 61 Whitefish, 1 Rock Sole, 31 Rockfish, 9 Red Snapper

10-07-2023

3/4 Day Trip

29 Anglers

29 Salmon Grouper, 6 Sculpin, 4 Sheephead, 180 Whitefish, 113 Rockfish, 31 Red Snapper

09-30-2023

3/4 Day Trip

32 Anglers

13 Salmon Grouper, 63 Sculpin, 5 Sheephead, 51 Whitefish, 71 Rockfish, 11 Red Snapper

09-25-2023

3/4 Day Trip

23 Anglers

1 Sand Bass, 95 Sculpin, 2 Sheephead, 5 Blue Perch, 52 Whitefish

09-24-2023

3/4 Day Trip

21 Anglers

1 Sand Bass, 73 Sculpin, 6 Sheephead, 31 Whitefish

09-23-2023

3/4 Day Trip

32 Anglers

1 Sand Bass, 107 Sculpin, 3 Sheephead, 97 Whitefish

09-17-2023

3/4 Day Trip

29 Anglers

9 Sand Bass, 145 Sculpin, 4 Sheephead, 1 Calico Bass, 61 Whitefish

09-09-2023

3/4 Day Trip

37 Anglers

70 Salmon Grouper, 1 Sculpin, 3 Sheephead, 12 Calico Bass, 26 Whitefish, 82 Rockfish, 7 Red Snapper