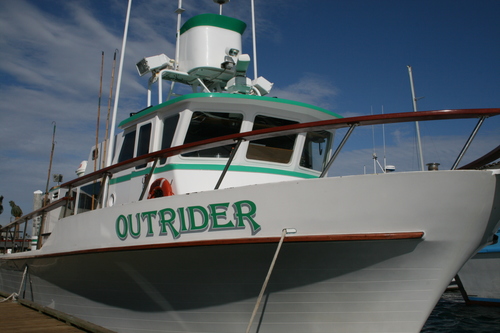 Outrider
Owner:
Tucker McCombs
Captains:
Tucker McCombs
Mailing Address:

Outrider Sportfishing
141 West 22nd Street
San Pedro, CA 90731
Outrider is the perfect boat for smaller groups. Unsurpassed in customer service, she is without a doubt the cleanest and most comfortable charter boat in her class. Whether you have never fished a charter boat, or you are a hardcore angler, our professional, highly experienced and courteous crew will make you feel right at home.

We can customize any trip from ¾ day local or Island to overnight and 2-day trips to fit your needs. Our goal is to make your time aboard the Outrider a memorable and exciting experience.


To make your reservation please click on the green button next to the trip you would like to go on. Then follow the instructions to complete your reservation.
No trips found.
Charter Rates
Trip Types
Season
Anglers
Mon - Thu
Fri - Sat
Sun
Full Day
Year Round
21
$2,200
$2,400
$2,400
Overnight
Year Round
11
$2,800
$3,000
$3,000
Overnight Offshore
Year Round
11
$3,200
$3,400
$3,400
2 Day Island
Year Round
11
$5,400
$7,000
$7,000
2 Day Offshore
Year Round
11
$6,600
$7,000
$7,000
1.5 Day Island Freelance
Year Round
11
$3,400
N/A
$3,400
1.5 Day Offshore
Year Round
11
$4,000
N/A
$4,000
Prices subject to change without notice. Call the landing for exact pricing.
The Outrider specializes in ultra limited-load charters with your comfort in mind. She is the perfect boat for:
• Family Groups
• Small fishing clubs
• Small businesses, employee incentive/customer appreciation
• Church groups
• Friends from work
• Whale watching
• Channel swims/Marathon swims
• Burials at sea
Outrider is a 50-foot fiberglass sport fisher built by Delta marine in 1976, purchased, rebuilt, and refurbished from 2005 to 2007.
She has been updated with all the latest, state of the art electronics, navigation and safety equipment, two radars, dual-screen Furuno fish finder, two chart-plotters with computerized navigation system, wesmar side-scanning sonar, satellite communications and two steering stations.

The Outrider was repowered 2009 with twin John Deere, low emission, turbo diesel engines. We have a cruising speed of 10-plus knots and a top speed of 18 knots, which makes all of southern California's most productive fishing areas within easy reach and allows for more fishing time.

She is also equipped with two generators as well as a backup for almost every system on board.

The galley is equipped to provide a wide variety of meals, made to order, with seating for 7 passengers. The galley also includes a large flat screen tv and dvd player for entertainment.

We have 11 spacious bunks with clean pillow cases and blankets. There are 2 heads and showers. We have a large bait capacity and plenty of deck space.

The Outrider operates all year out of 22nd St. Landing in San Pedro. Whether fishing the local islands, offshore, or the Outer Banks, we will provide the best possible fishing experience available that day. We strive to be the best in customer service and to keep your catch in the best quality condition.