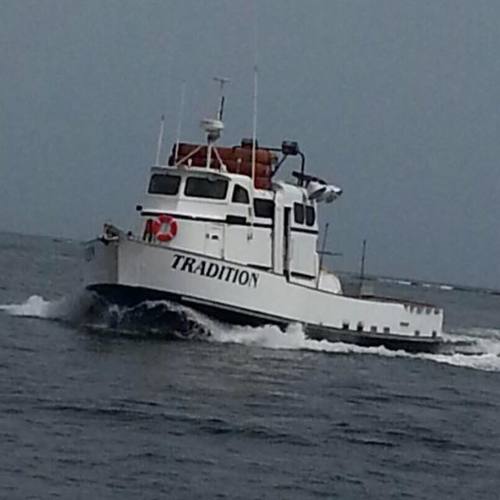 Tradition
Owner:
Tom Durr
Captains:
Tom Durr
Mailing Address:

Tradition Sportfishing
141 West 22nd Street
San Pedro, CA 90731
For a limited time only, Tradition is offering a weekday charter special. 3/4 day $1500 Monday-Friday. Please contact the office for this special!
To make your reservation please click on the green button next to the trip you would like to go on. Then follow the instructions to complete your reservation.
No trips found.
Tradition," is a 60 foot United States Coast Guard licensed sport-fishing vessel offering 3/4 day freelance fishing trips departing daily, fishing the coastal areas, as well as, Catalina with maximum capacity of 40 passengers.

She is also available for whale watching charters, harbor cruising, and more with a maximum capacity of 65 passengers.

And offers fully galley services to include hot meals from the grill, soda, candy, snacks and ice-cold beer, with upstairs and downstairs seating. Our crew is very experienced and will make your trip one that is both fun and enjoyable.

Recent Tradition Fish Counts
Date

Trip Type

Trip Details

Fish Count

Audio

03-13-2021

1/2 Day Trip

19 Anglers

2 Barred Sand Bass, 25 Ocean Whitefish, 12 Rockfish, 20 Sanddab

11-29-2020

3/4 Day Trip

16 Anglers

1120 Sanddab

11-28-2020

3/4 Day Trip

10 Anglers

750 Sanddab

10-31-2020

3/4 Day Trip

15 Anglers

450 Sanddab

10-11-2020

3/4 Day Trip

30 Anglers

3 California Sheephead, 12 Kelp Bass, 12 Ocean Whitefish, 130 Pacific Bonito

10-10-2020

3/4 Day Trip

25 Anglers

2 California Barracuda, 3 California Sheephead, 20 California Yellowtail, 21 Kelp Bass, 125 Pacific Bonito

10-04-2020

3/4 Day Trip

32 Anglers

60 Kelp Bass, 110 Pacific Bonito

10-03-2020

1/2 Day Trip

30 Anglers

32 Ocean Whitefish, 100 Pacific Mackerel, 7 Rockfish

10-03-2020

1/2 Day Trip

30 Anglers

41 Kelp Bass, 10 Pacific Bonito, 100 Kelp Bass Released

09-27-2020

3/4 Day Trip

30 Anglers

3 California Barracuda, 1 California Sheephead, 29 Kelp Bass, 1 Ocean Whitefish, 50 Pacific Bonito