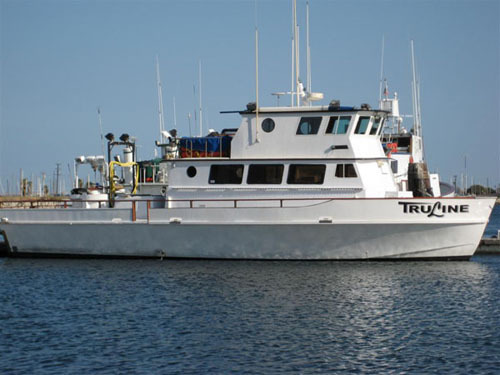 Truline
Owner:
Jon Wantanabe
Captains:
Brian Salcido
Mailing Address:

Truline Sportfishing
141 West 22nd Street
San Pedro, CA 90731
The Truline is the perfect boat for larger groups. With plenty of room on the rail, this 65x22 boat is one of the best in her class.

Charter Rates
Trip Types
Season
Anglers
Mon - Thu
Fri - Sun
3/4 Day
Year Round
30
$3,800
$4,000
Overnight CAT
Year Round
20
$3,800
$4,350
Overnight SCI,SBI
Year Round
20
$4,100
$4,500
1.5 Day Outer Banks
Year Round
18
$5,800
$6,500
1 Day San Nick Island
Year Round
18
$4,200
$4,500
2 Day Offshore
Year Round
16
$8,500
$9,000
Prices subject to change without notice. Call the landing for exact pricing.
Galley minimum on all trips is $300. All charters require a 50% deposit 30 days prior to departure date.

Bait is included on all trips.

Ice chests, glass containers, and alcoholic beverages are not to be brought aboard the boats.

All prices are subject to change without notice.

Licenses, Fishing Tackle, Food and Beverages, and Fish Filleting are additional on all trips unless otherwise noted.

California fishing licenses are required for all anglers 16 years of age and older when fishing California waters.

Possible fuel price increases may require that a fuel surcharge be added at the time of departure.

All prices based upon a cash payment basis. Credit payments will increase the cost by 3%.
Recent Truline Fish Counts
Date

Trip Type

Trip Details

Fish Count

Audio

11-12-2022

Overnight Trip

19 Anglers

6 Bluefin Tuna

11-05-2022

Overnight Trip

17 Anglers

10 Bocaccio, 12 California Sheephead, 7 Kelp Bass, 54 Ocean Whitefish, 3 Pacific Bonito, 65 Rockfish, 1 Sanddab, 9 Vermilion Rockfish

10-16-2022

Overnight Trip

18 Anglers

3 California Sheephead, 18 Kelp Bass, 20 Ocean Whitefish, 40 Pacific Bonito, 15 Yellowfin Tuna

09-12-2022

3/4 Day Trip

25 Anglers

39 Dolphinfish

09-05-2022

3/4 Day Trip

28 Anglers

34 Dolphinfish

09-03-2022

Overnight Trip

20 Anglers

124 Dolphinfish, 1 Yellowfin Tuna

09-02-2022

3/4 Day Trip

28 Anglers

9 Dolphinfish

08-28-2022

Overnight Trip

19 Anglers

1 Bluefin Tuna, 112 Dolphinfish

08-26-2022

Overnight Trip

15 Anglers

25 Dolphinfish

08-26-2022

3/4 Day Trip

24 Anglers

33 Dolphinfish